Most marketers can see the writing on the wall — we know we can't keep using wishful thinking and marketing metrics such as views, clicks and form-fills to substitute what we really want to measure: Marketing's impact on revenue. Yet, in DemandLab's 2021 Revenue Attribution Insights Report, we found that nearly 50% of CMOs still struggle to prove their impact on revenue. In 2021, when generating revenue was at its most challenging and critical, marketers realized they needed to connect the dots and create a system capable of converting vanity metrics into numbers that truly matter.
Identifying The Attribution Disconnect
The ways success is measured and goals are defined for marketers is changing. In a recent
Demand Gen Report survey
, more than three-quarters of marketers revealed their need to show marketing's impact on pipeline and revenue. Similarly, the
2nd Annual State of Revenue Marketing & Compensation Report
 showed that 72% of marketers are held accountable for revenue, up 7% from last year. 
Those expectations are starting to impact marketers' paychecks, too. A growing number of organizations are starting to compensate marketers based on revenue and/or closed business. The State of Revenue report also highlighted that marketers with pipeline and revenue responsibility are 3X more likely to have a portion of their compensation tied to those numbers. 
Yet, marketers who can measure impact on revenue are still the outliers, not the norm. Recent data showed that only 36% of marketers have a measurable strategy in place and one-quarter admitted to having no plans for building an attribution strategy at all.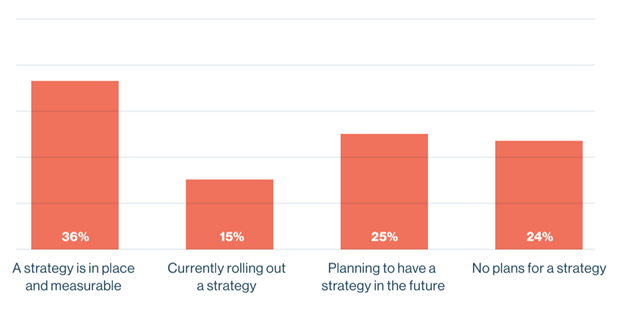 What's holding the majority of marketers back? 
Hesitancy To Change & Lack Of Alignment
Revenue attribution is hard, and it's common to struggle with connecting marketing activities to revenue. Very few marketers can claim to have a reliable attribution model in place, and it's not because they don't see the value in it — it's because they need to:
Overcome inertia and leave the status quo behind;
Break internal and technologic siloes; and
Build an integrated martech stack that enables data to flow from the website into MAPs and CRMs. 
Revenue attribution may be hard, but it's worth it. The ability to attribute revenue to specific marketing activities has a transformative impact on marketing's ability to generate more revenue, gain more insight and take greater ownership of the role they play in. Marketing teams must help their organizations grow revenue through the implementation of a closed-loop attribution system that enables marketers to optimize programs based on performance analysis.
Additionally, they need outlets to connect marketing activities to the revenue earned, as well as identify marketing teams' ability to align marketing touches, enable more campaigns and content production and distribution with specific sales opportunities.
Absence Of A Revenue Attribution Framework
The first step in the revenue attribution journey begins with creating a framework that collects marketing data throughout the customer journey, from first touch through closed-won revenue.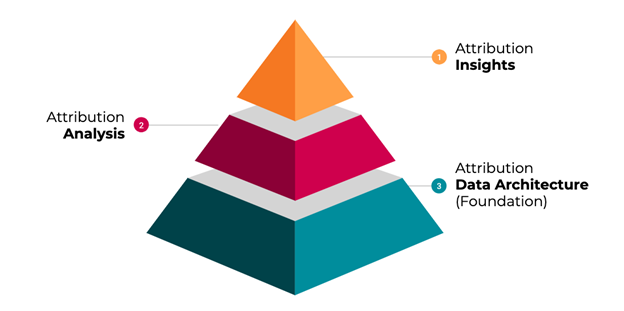 The foundation of that framework depends on a data architecture that defines how data needs to be collected, stored, distributed and consumed to support business requirements reliably. Once that foundational layer is in place, marketers need tools capable of turning high volumes of data into analysis that examines how that buyer interacts with the brand at every stage. That analysis, in turn, generates insights that inform the decisions made about what to keep doing, what to stop doing and which new opportunities to explore.
Building that foundational layer of data architecture requires both technical proficiency and broad-ranging business expertise. Organizations will want to choose their core team wisely to ensure that both marketing and business requirements are translated effectively into technical capabilities.
Getting the data architecture right is the hardest part of the process and the most important because it creates an organization-wide source of truth.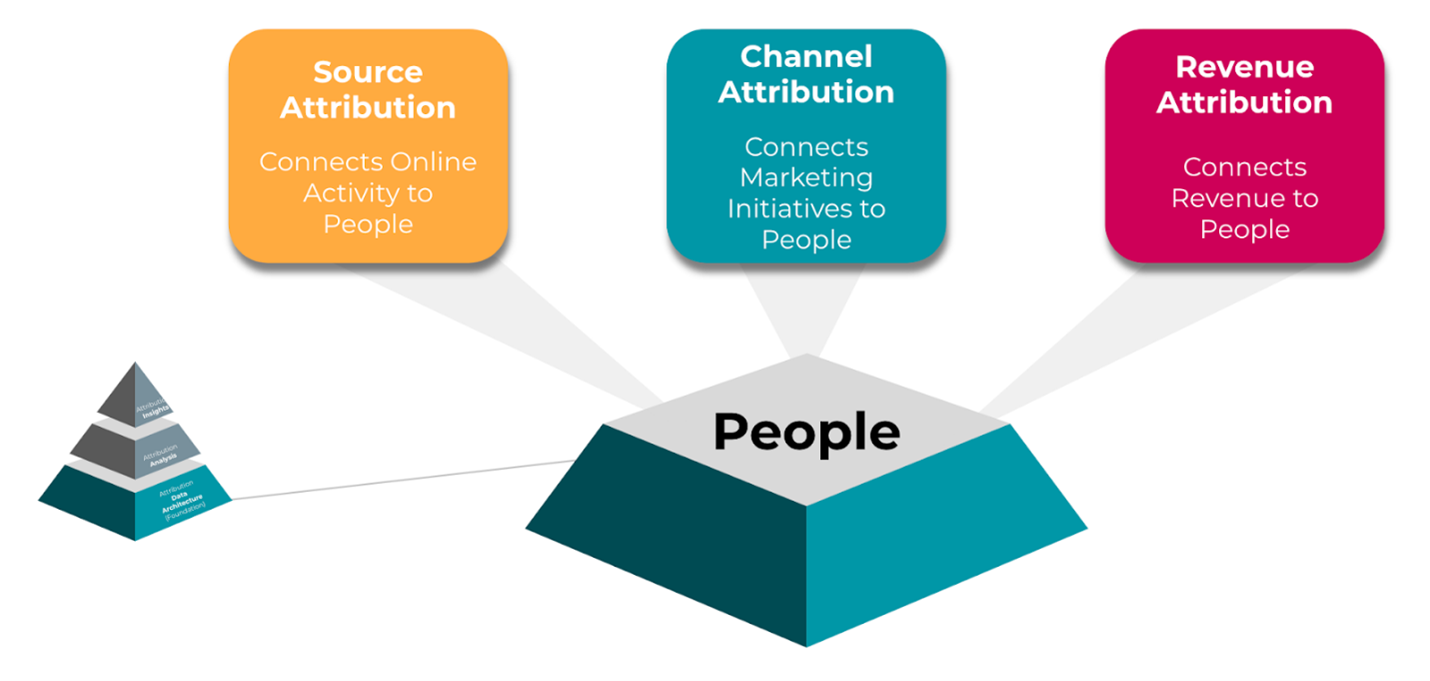 An effective revenue attribution model puts people at its center, meaning that data architecture should be capable of collecting three critical data sets and associating those types of data with each prospect the company interacts with:
Source attribution to help identify where a prospect came from and the channel that brought them in;
Campaign attribution to focus on the specific offer or content that attracted the prospect to the digital property; and
Revenue attribution to determine which internal team member brought the prospect in.
Implementing An Objective Source Of Marketing Truth  
Views, visits and clicks are important to marketers and will always be part of a marketer's toolkit. But clicks are not a form of currency that the rest of the organization understands or cares about: Revenue is. And until we, as marketers, prioritize building attribution frameworks that objectively prove our impact on revenue, we can't achieve our potential as vital contributors to overall business success.
We're all tired of chasing trends. But revenue attribution is not a trend — it's the new reality for marketers and the longer we avoid it, the harder it will be to adapt.
Marketers can speed up their journey toward revenue attribution by:
Starting the conversation to receive internal buy-in to build a revenue attribution model;
Focusing on creating a data architecture capable of connecting the dots between your website, MAP and CRM;
Bringing in third-party consultants; and
Remaining dedicated to their cause.
---
Eric Hollebone is the COO of DemandLab, where he oversees several key areas of operations. He is a three-time Marketo Champion, a two-time Revvie Award winner, author of "Change Agents: The Radical Role of Tomorrow's CMO," and an early advocate of marketing automation, measurement and analytics. Eric has experience leading all facets of global marketing and product management, including customer acquisition/retention, brand awareness/development, corporate/content marketing, product management for large public sector enterprises, early-stage ventures and private organizations.