Over the last few years, cryptocurrencies have been on the rise, with more of them entering the market each year. Bitcoin is the pioneer crypto that has existed since 2009 when its creator, Satoshi Nakamoto, released it online. Over the years, the crypto has garnered a lot of support from people who think that cryptocurrencies are the future of smooth business. However, Bitcoin is now facing attacks from various corners.
Genesis Of A National Emergency
Just recently, Donald Trump tweeted his personal opinion on cryptos. Apparently, the US president has some mild reservations about cryptocurrencies especially Bitcoin. According to Trump, Bitcoin's volatility, lack of regulation, and chances of it being used by criminals are the main reasons he doesn't like the crypto.
I am not a fan of Bitcoin and other Cryptocurrencies, which are not money, and whose value is highly volatile and based on thin air. Unregulated Crypto Assets can facilitate unlawful behavior, including drug trade and other illegal activity….

— Donald J. Trump (@realDonaldTrump) July 12, 2019
After Trump's twitter statements, the US Treasury Secretary Steve Mnuchin called a press conference and called Bitcoin's apparent lack of government regulation a "national emergency."
However, the tweets and press conference didn't seem to unsettle people like CZ. During an interview with CNBC, Binance CEO Changpeng Zhao had this to say about Trump's statement:

The increasingly expansive nature of its market has put Bitcoin at odds with governments that see it as a threat to the centralized fiat currencies. Also, the increasing interest in it by various players within the financial market, including banks, has led some to suggest that governments might start looking for ways to suppress it. In fact, China and India have already instituted laws restricting ownership of cryptocurrencies. But is it really possible to totally ban Bitcoin?
Below are some tricky factors that may make it extremely hard for any government to kick Bitcoin trading out of the market.
Legal Hurdles
The Constitution of the United States protects free speech, and a ruling in a precedent case suggests that Bitcoin is subject to such protection. In 1996, the Clinton administration tried to block the publication of encryption software created by Daniel Bernstein (a mathematician). The news of the ruling was reported by the New York Times on December 19, 1996. In her ruling, Judge Marilyn Patel categorized the software code as free speech that needed to be protected just as other kinds of speech like poems and news articles.
Below is a snippet of a statement by ReasonTV explaining the correlation between the 1996 ruling and the case for Bitcoin's protection:

During the Bitcoin 2019 Conference held in San Francisco, Abra CEO Bill Barhydt spoke of the need to protect and maintain the crypto's legality as part of free speech. Below is a snippet of Bill's speech as reported by Forbes: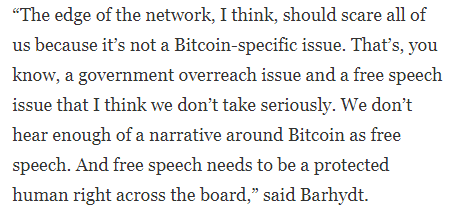 In this sense, any attempt to totally ban Bitcoin would go against the First Amendment and the government would find it really hard to present a credible case to legally get rid of the cryptocurrency.
Bitcoin Is Decentralized
Cryptocurrencies generally run on decentralized networks, meaning that it's not possible to block access to the Bitcoin network from a central point. If the networks were as easy to shut down as electric grids or water systems, it's pretty certain that some governments would have done that by now. However, that's not the case with cryptos. The Bitcoin network runs on open-source software that's available for free everywhere in the world. In this case, any free people are constitutionally allowed to use it especially for peer-to-peer dealings.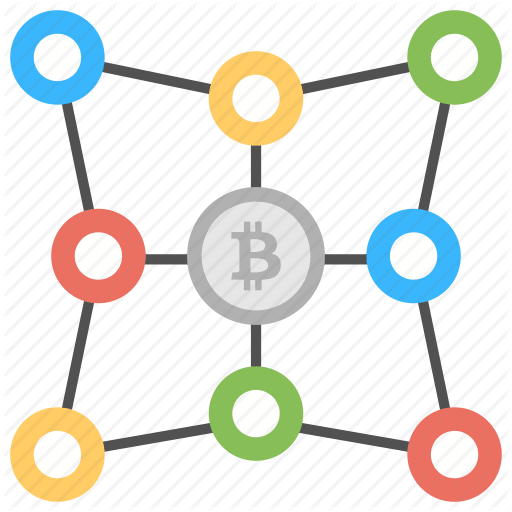 A visual representation of Bitcoin's decentralized network.
Also, even if governments could sabotage the internet to block access to the network, the move would be entirely fruitless. Bitcoin's blockchain network can be streamed via satellites, making it not entirely dependent on internet access. That's besides the crafty tricks like the use of anonymous nodes. In fact, Satoshi Nakamoto himself recommended the anonymous TOR browser by network users. The resultant expansive global network coupled with its high security makes it virtually impossible for anyone to interfere with Bitcoin through extra-legal means.
Big Money Is Getting Involved
People and institutional investors with heavy bags have been known to influence policies. Of late, Bitcoin has attracted a lot of attention from institutional investors like banks and other influential industry players. These entities have made it their business to boost BTC awareness, acceptance, and adoption across the world. There are now around 4,000 Bitcoin ATMs across the world. Some schools, coffee shops, and other business establishments in Europe and the US are now accepting Bitcoin payments.
Many entities have tabled Bitcoin ETF proposals to the SEC, with the most recent ones spearheaded by Van Eck and the Winklevoss brothers. Bakkt, an entity set to launch a Bitcoin futures trading platform, is set to commence operations on September 23rd, 2019.
On Sept 6, our Warehouse will begin offering secure storage of customer bitcoin to prepare for the launch of Bakkt Bitcoin Daily & Monthly Futures when they launch on Sept 23

These contracts will enable physical delivery of bitcoin with end-to-end regulated markets and custody

— Bakkt (@Bakkt) August 28, 2019
Other developments that suggest a growing crypto industry include plans by JP Morgan Chase to launch its own cryptocurrency and Facebook's plan to launch Libra.
The #Libra Association is today announcing plans for a simple global currency and financial infrastructure. Find out more https://t.co/VPS7LllcNn#blockchain#cryptocurrencypic.twitter.com/mdHymhsrcH

— Libra (@Libra_) June 18, 2019
The involvement of big-money entities that initially shunned cryptocurrencies is a clear pointer that Bitcoin, and the crypto industry in general, has managed to break the acceptance barrier. Any attempt to stifle its reach henceforth is bound to be meant with strong resistance from within both social and political fronts.
What Governments Can Do
As much as the odds seem to be on Bitcoin's side when it comes to a throw-down with governments, it's prudent to embrace a little bit of sobriety and face the hard reality that governments can still inflict some damage by making is harder to acquire and trade with the crypto. They can restrict access to certain websites that prop up Bitcoin and monitor power usage especially in regard to Bitcoin mining. They can also institute strict banking regulations like KYC (Know Your Customer) and AML (Anti-Money Laundering) policies on entities and platforms that operate in the Bitcoin industry – this includes crypto exchanges as well as ETF and futures trading platforms.
In fact, there have been a good number of hearings held by the government in an effort to address the potential issues of money laundering activities linked to Bitcoin. Abra CEO Bill Harhydt had this to say about that:

Banning crypto products has become the latest trick by governments to take a jab at the crypto industry. In a recent move, Britain's FCA (Financial Conduct Authority) has proposed the drafting of new rules to ban products related to Bitcoin. However, this is only applicable to the regulated products as opposed to people who want to buy Bitcoin itself. The FCA cited Bitcoin's volatility, saying that in such a market, "derivatives and exchange-traded notes are unsuitable investments for retail consumers."

A snippet from the FCA's press release announcing its proposal to ban the sale of crypto derivatives.
The Bottom Line
The crypto market has evolved into a seriously ratchet industry, and many have opined that Bitcoin may one day be a global currency. As such, governments should work to regulate rather than suppress it. It's evident that a number of governments have gone to war with Bitcoin and lost terribly.
A similar notion was fronted by Zhao during his interview with CNBC.

Zhao described the possibility of the US banning Bitcoin and cryptocurrencies as "the worst-case scenario."
In essence, Bitcoin cannot be banned.
Related Posts: