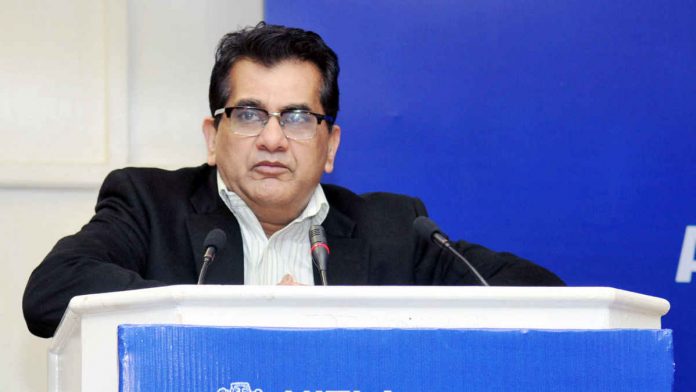 Text Size:
New Delhi: Admitting that he didn't know the National Capital Region was home to the most start-ups in the country — more than Bengaluru or Hyderabad — NITI Aayog CEO Amitabh Kant Tuesday urged the capital's wealthy to invest in the sector.
Kant was speaking at an event organised by the Delhi-NCR chapter of the TiE network, one of the world's largest entrepreneur networks. The event saw the release of a report which revealed that Delhi-NCR has 7,039 start-ups compared to Bengaluru's 5,234, and recommending how to ensure Delhi-NCR's start-ups realise their potential.
"I have all along believed that as far as start-up ecosystems (are concerned), Bengaluru and Hyderabad were more vibrant and more dynamic. Suddenly, this report comes up and says that Delhi actually has more start-ups than any other city in India," Kant said, adding that this is "a huge revelation" that the world didn't know about until now due to poor marketing.
"There's been a lot of very poor marketing by the NCR region over the years," Kant told Saurabh Srivastava, chairman emeritus of TiE Delhi-NCR.
"You need to learn the art of branding, the art of positioning, art of marketing, much better than Bengaluru and Hyderabad. They seem to have just told the entire world that they are next to Silicon Valley, whereas I think you are way ahead of Bengaluru. This story should have been told much earlier," Kant said.
---
Also read:How IIT-Delhi start-ups are helping draw visually impaired students into science
---
Funding and resources
Despite being home to the most Indian start-ups, Delhi-NCR has less funding and resources for them compared to the rest of India. In the first half of 2019, Delhi-NCR start-ups received only 13 per cent of all early-stage investments made in India, the report said.
Rajan Anandan, former Google India head and now managing director for investment firm Sequoia Capital, said at the event that Delhi lacks incubation centres and has no Centres of Excellence, while there are many in the south.
Kant, who was addressing an audience including billionaires like naukri.com founder Sanjeev Bikhchandani, said while the government is ready to help, Delhi's rich should also come forward to invest.
"There are a huge number of wealthy people living in Delhi… They must open up and actually they should start investing in start-up enterprises. They are the ones who must put in capital, they are the rich people who have generated a lot of wealth in the early days," Kant said.
Help from Atal Innovation Mission
Kant added that the NITI Aayog's Atal Innovation Mission — which is encouraging technology innovation among students across India by opening nearly 3,500 tinkering labs replete with robots and 3D printers — is ready to set up sufficient incubation centres in Delhi-NCR, if it gets viable proposals.
"We don't get good viable projects… That's a challenge I'm throwing to the Delhi-NCR TiE chapter, to Rajan Anandan, to Saurabh Srivastava, and to Sanjeev Bikhchandani, is that we from the Atal Innovation Mission are willing to support 25 incubation centres this year itself if you come up with good proposals," he said.
---
Also read: India must boost start-ups to catch up with China's private space firms
---
ThePrint is now on Telegram. For the best reports & opinion on politics, governance and more, subscribe to ThePrint on Telegram.
Related Posts: