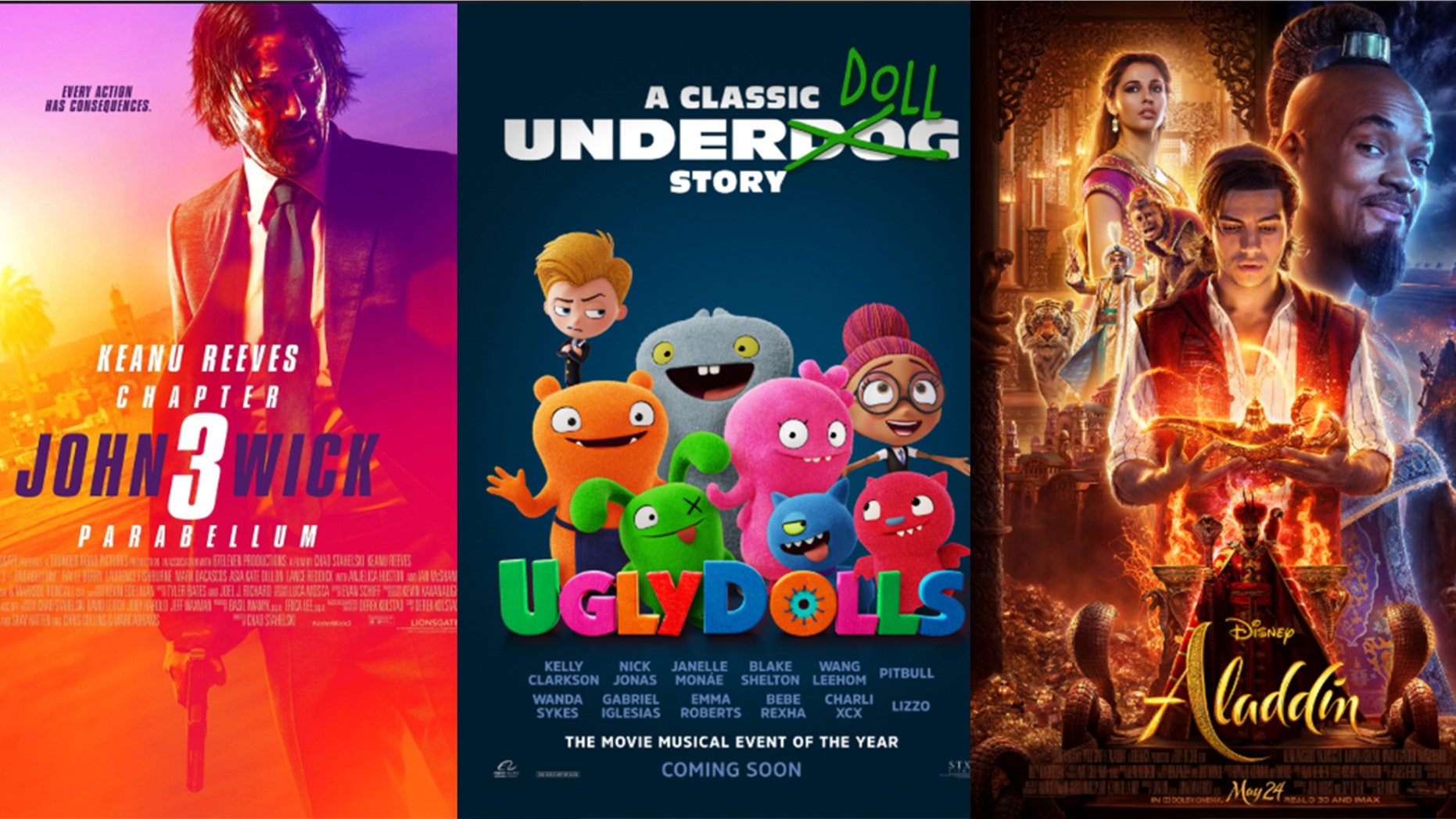 From l-r: "John Wick: Chapter 3 – Parabellum," "Uglydolls," and "Aladdin" come to theaters in May.
May marks the release of many highly awaited films coming to theaters nationwide. From the latest installment in the "John Wick" franchise to the remake of Disney's "Aladdin," here's a look at what movies are being released this month:
"Long Shot" (May 3) —A childhood crush gets a second chance when a presidential hopeful (Charlize Theron) hires a speechwriter (Seth Rogen) who she used to babysit in this raucous comedy.
"Uglydolls" (May 3) —The popular toys are voiced by some of music's biggest stars, including Kelly Clarkson and Pitbull, in this animated family film.
'AVENGERS: ENDGAME' STAR BRIE LARSON WANTS MARVEL TO 'MOVE FASTER' IN PUSHING FOR DIVERSITY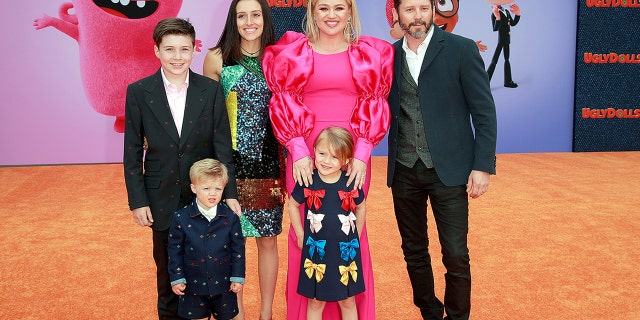 Seth Blackstock, Remington Alexander Blackstock, Savannah Blackstock, Kelly Clarkson, River Rose Blackstock, and Brandon Blackstock attend STX Films World Premiere of "UglyDolls" at Regal Cinemas L.A. Live on April 27, 2019 in Los Angeles. (Getty)
"Extremely Wicked, Shockingly Evil and Vile" (May 3) — Zac Efron plays Ted Bundy in this unconventional look at the serial killer through the eyes of an ex-girlfriend (Lily Collins) witnessing his downfall in this Netflix drama. Also in select theaters.
"Wine Country" (May 8 theaters, May 10 Netflix) — Amy Poehler has assembled the Avengers of comedy, Maya Rudolph, Tina Fey, Paula Pell, Rachel Dratch and Ana Gasteyer, in this Netflix film about a heightened 50th birthday trip to Napa.
NEW BRAD PITT, LEONARDO DICAPRIO MOVIE POSTER SLAMMED BY FANS FOR 'LOOKING PHOTOSHOPPED'
"The Hustle" (May 10) —Anne Hathaway and Rebel Wilson put a female spin on "Dirty Rotten Scoundrels."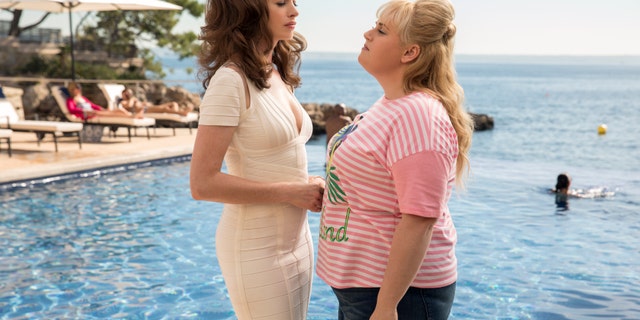 This image released by Metro-Goldwyn-Mayer Pictures shows Anne Hathaway as Josephine Chesterfield, left, and Rebel Wilson as Penny Rust, in a scene from "The Hustle." (Christian Black/Metro Goldwyn Mayer Pictures via AP)
"Detective Pikachu" (May 10) — Ryan Reynolds lends his voice to the cuddly yellow Pokemon in this live-action mystery.
ROTTEN TOMATOES WILL NO LONGER ALLOW PUBLIC TO POST REVIEWS OF MOVIE BEFORE IT'S RELEASED
"John Wick: Chapter 3 — Parabellum" (May 17) — Everyone's favorite assassin is back and this time the Keanu Reeves character has a $14 million price on his head.
"The Souvenir" (May 17) — Tilda Swinton co-stars in this Sundance breakout about a young film student who gets wrapped up in a fraught relationship.
"Aladdin" (May 24) — This live-action reboot of the animated classic from director Guy Ritchie finds Will Smith in the role of the Genie.
"Booksmart" (May 24) — Kaitlyn Dever and Beanie Feldstein star as overachieving high school students who decide to break the rules for once one epic night in this SXSW breakout comedy.
THE MOST ANTICIPATED MOVIES OF 2019
"Brightburn" (May 24) — This James Gunn-produced thriller with Elizabeth Banks puts a sinister spin on a classic superhero tale. What if the alien child who crash lands on earth isn't actually good?
"Godzilla: King of the Monsters" (May 31) — "Stranger Things" breakout Millie Bobby Brown makes her big screen debut alongside Kyle Chandler, Vera Farmiga and O'Shea Jackson."
"Ma" (May 31) — Octavia Spencer terrorizes some young kids in this thriller from "The Help" director Tate Taylor.
"Rocketman" (May 31) — Taron Egerton uses his own voice to play Elton John in this fantasy musical biopic, with Jamie Bell and Richard Madden.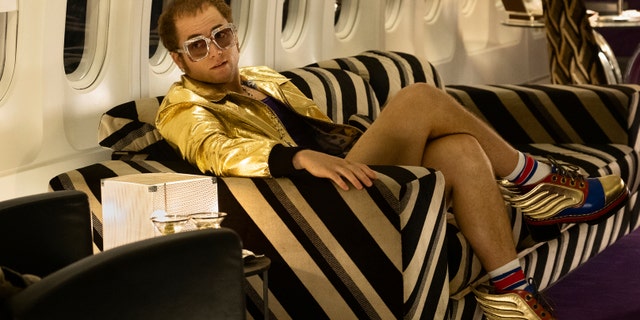 This image released by Paramount Pictures shows Taron Egerton as Elton John in a scene from "Rocketman." (David Appleby/ Paramount Pictures via AP)
CLICK HERE TO GET THE FOX NEWS APP
ALSO PLAYING: "Knock Down the House" (May 1 on Netflix and in select theaters); "The Last Summer" (May 3 on Netflix); "Non-Fiction" (May 3); "Ask Dr. Ruth" (May 3); "The Intruder" (May 3); "El Chicano" (May 3); "Tolkien" (May 10); "Charlie Says" (May 10); "The Biggest Little Farm" (May 10); "Poms" (May 10); "All Is True" (May 10); "My Son" (May 10); "All Creatures Here Below" (May 17); "Trial by Fire" (May 17); "A Violent Separation" (May 17); "See You Yesterday" (May 17 on Netflix); "A Dog's Journey" (May 17); "The Sun is Also a Star" (May 17); "The Tomorrow Man" (May 22); "Halston" (May 24); "Echo in the Canyon" (May 24); "Isabelle" (May 24); "The Poison Rose" (May 24); "The Perfection" (May 24 on Netflix); "Rim of the World" (May 24 on Netflix); "Always Be My Maybe" (May 29 in theaters, May 31 on Netflix); "Domino" (May 31).
The Associated Press contributed to this report.
Related Posts: