The TOK App Reveals Shortex Exchange will host their Initial Exchange Offering (IEO) beginning Aug. 15, 2019. The Ethereum based project has a built-in cryptocurrency wallet among other technological features meant to improve productivity in social and work settings.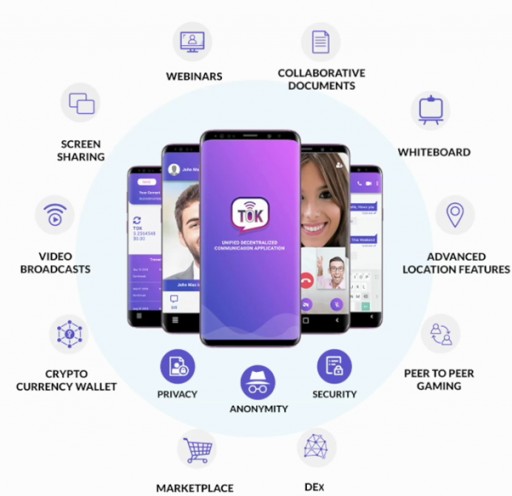 LAS VEGAS – August 14, 2019 – (Newswire.com)

TheTOKApp.com will hold its IEO at Shortex cryptocurrency exchange beginning Aug. 15, 2019.
TOK is a multi-purpose chat application built on the Ethereum Blockchain. While offering all the usual features of a chat application, The TOK App also offers a user-friendly cryptocurrency wallet. While communicating with family and friends through TOK, users will have an assortment of features that are meant to increase productivity and to encourage simplicity in technology that is still considered cutting edge.
TOK features are useful for personal and professional purposes. Some of the features are:
​Webinars
Collaborative documents
Whiteboard
Screen sharing
Video broadcasts
Advanced location features
Currency transfer Peer to Peer
TheTokApp.com Frequently Asked Questions page goes into details about philosophy that inspired the project, as well as some of the problems that the TOK team say their product resolves.
"With TOK, we are creating a new universe of communication. Technology has its upside and downside. In the digital age of communication, one of the primary downsides has been the breach of user data; one that's become a constant worry. With companies & hackers making money off of the private data of consumers, TOK aims to see the end of that fear that has engulfed the world with privacy leaks and data hacks."
"TOK aims to build a new universe of communication with faster, more secure and private communications enabling people around the world. TOK will be the new age communication application which will enable users with seamless and secure exchange of data not only through Chats – Group and Private and Audio & Video Calls but also empower its users with several added features to help create a communication ecosystem that is not only conducive for personal but also for professional purposes." Text from TheTokApp.com
Learn how to participate in the IEO by visiting TheTOKApp.com
Media Contact team@thetokapp.com
Learn more by reading The Tok Whitepaper
​Follow TOK Tweets
Chat On Telegram with the TOK community
Press Release Service by Newswire.com
Original Source: Multipurpose Communication App TOK Reveals Shortex Exchange as Host of IEO
Related Posts: