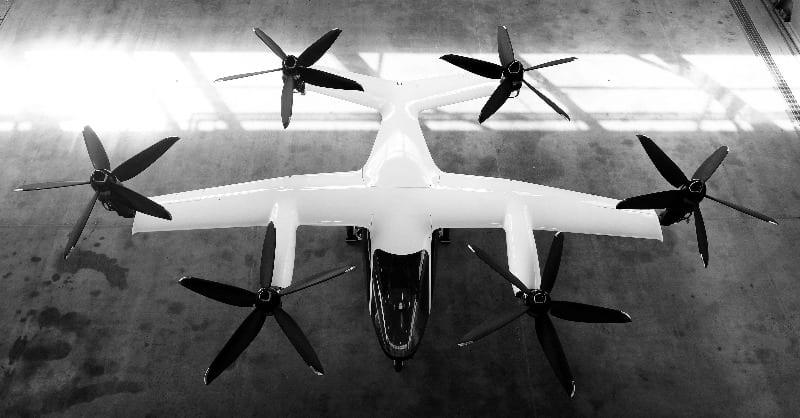 Joby Aviation's CEO provided some vehicle development updates during a Revolution.Aero session this week, pictured here is their second full-scale production prototype, at their manufacturing center in Marina, California. (Joby Aviation)
Joby Aviation wants to launch its electric air taxi in just three short years which could make it one of the first in the industry to do so. During a "Revolution.Aero" webinar on June 30, Eric Allison, head of product at Joby, provided some insight on Joby's certification, manufacturing, and launch plans as the company moves closer toward this feat.
The first and arguably most challenging hurdle is certification. Joby Aviation has been working closely with the Federal Aviation Administration (FAA) to gain certification for its electric vertical takeoff and landing (eVTOL) aircraft and announced in February that they had agreed to G1 certification conditions with the agency. These conditions detail the requirements that Joby's aircraft must meet to be certified. Allison now said the type certificate could come as soon as 2023.
Allison said Joby was encouraged by comments made by FAA administrator Steve Dickson during a House of Representatives appropriations committee testimony where he said he expects the first eVTOL type certificates to be awarded in 2023.
"We've been working through the means of compliance, just a lot of work to be done, and working through that with the FAA," Allison said. "We were really excited to see that Steve Dixon, who is the administrator of FAA, testified before the House Appropriations Committee that he expects the first eVTOL to get the type of certificate in 2023 in the US and that fits our timeline and so we're really, really excited about that."
Joby has been doing a lot of its own flight testing, which Allison said was going well but would not provide more details on. They are also working with the Air Force's Agility Prime program and NASA's Advanced Air Mobility National Campaign which will begin flight tests later this year.
Allison said Joby has completed the assembly of its second full-size production prototype test aircraft.
"Obviously, we've been flight testing a lot," Allison said. "We have aircraft in flight testing and that's going really well. We've been posting some clips here and there about that and not going to go into too many details today about it, but it's been going great. We've been working on our production capabilities [and] completed assembly of our second full-size test aircraft production prototype."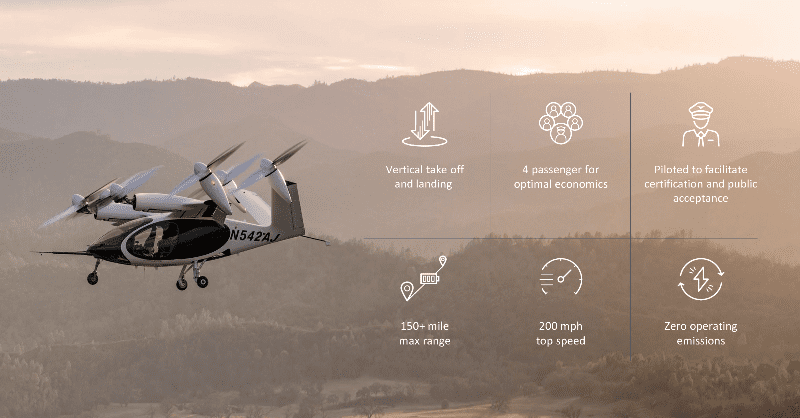 (Joby Aviation)
Assuming Joby receives type certification under its 2023 timeline, it will start initial operations in the beginning of 2024, Allison said. These operations will start in a few small markets and build out a network and service from there.
"The vision that we have is that we will start to really focus on a small number of launch markets where we'll be able to invest in and start to build out the network and the service," Allison said. "Then we envision going deep in these markets and really developing out the scale of the network as we build out the service."
Joby's partnership with Uber will help fuel this effort. In December 2020, Joby acquired Uber Elevate and a $75 million investment from Uber Technologies. One of the ways Joby is leveraging this partnership is using Elevate's on-demand modeling to find hotspots of demand, Allison said.
"We've done a bunch of surveys, thousands of surveys, frankly, at Elevate and brought all that with us to Joby that's now fueling this market simulation capability that we have that lets us get insight, I think pretty unique insights, into the infrastructure locations," Allison said. "Where are the right hotspots, you know, even sometimes a mile or two in different directions can make a really big difference and so it helps us to identify where those hotspots of demand are and then that helps us, in turn, drive partnerships."
Joby's service will also be available in the Uber app as part of this partnership, Allison said.
"We will have this relationship with Uber where we will appear in the Uber app, Uber will provide the multimodal connectivity in the ground side in the Joby app as well and so can have a bi-directional integration of this," Allison said. "We're really excited about that because it helps us de-risk our go to market, incredibly, because we have this giant demand funnel that will be able to bring demand into the service immediately on day one."
Allison said Joby is focused on launch markets in the U.S. before exploring markets internationally.
"We're really focused on our initial launch markets in the U.S. because we're working with FAA for the initial type certification of the vehicle, that's kind of the essential kind of linchpin of being able to launch this type of a service," Allison said. "Certainly, we're paying attention to other markets outside of the U.S. We think that there's many fantastic markets around the world that could benefit from this service and so we'll stay tuned, and we'll see how things develop."
Joby is partnering with Toyota for manufacturing operations.
"One of the things that we think is really key is that we have an incredible partner in Toyota, who's one of our major investors and one of the best manufacturers in the entire world," Allison said. "We have gleaned a lot of information from them in terms of the different approaches and they're just a fantastic partner in this that we think is going to be a real key differentiator for us as we are able to build out our manufacturing capability and go to market."
Allison said Joby is vertically integrating its manufacturing process so that it aligns closely with the aircraft's engineering.
"We are taking a pretty vertically integrated approach, and so we are making sure that we were able to produce the key things that need to be produced in a tightly coupled way with our engineering," Allison said. "So, we are investing in the right processes and the right approaches to manufacturer aircraft."