In a now famous essay offering advice to would-be entrepreneurs, doyen of the startup world and co-founder of Y Combinator Paul Graham writes: "When searching for ideas, look in areas where you have some expertise." This expertise, he adds, lies in "look[ing] for problems, preferably problems you have yourself".
Is this useful advice for the social enterprise sector? This is a question that we've been trying to answer at Catch22, a social business that delivers public services throughout the social welfare cycle.
Since 2016, we've been running an incubation programme for social entrepreneurs who have what we call 'lived or learnt experience'. This means they have direct exposure to the problems they are trying to tackle, either as a result of their own life experiences or because they've delivered relevant services on the frontline.
Current participants include Emmanuel Akpan-Inwang, who has used his own experiences of foster care to inform the creation of Lighthouse, a new type of children's care home that will open its doors in 2020.
Another is Rachael Box, who founded London Village Network in response to her frustrations at the lack of opportunities for young people on her Islington council estate. Now operating across ten London boroughs, her venture improves social capital by connecting young people with professionals that they wouldn't normally meet in their day to day lives.
More opportunities needed
While we've backed them because we believe in their ideas, we also believe there should be more opportunities for people to solve the problems that they've experienced directly.
Why?
Firstly, because social entrepreneurs with lived and learnt experience can be compelling role models for their communities, where there are often few.
We've seen this with one of the entrepreneurs we support, Mifta Choudhury. He founded Youth Ink after spending 12 years in the criminal justice system starting at the age of 13. His charity aims to reduce reoffending rates by bringing young people, who have varying degrees of involvement in the youth justice system, together with ex-offenders, who are trained as peer supporters. Coming from the same background "helps to build trust" with the people Mifta is trying to support, he says, but also shows them "they have more options than they think".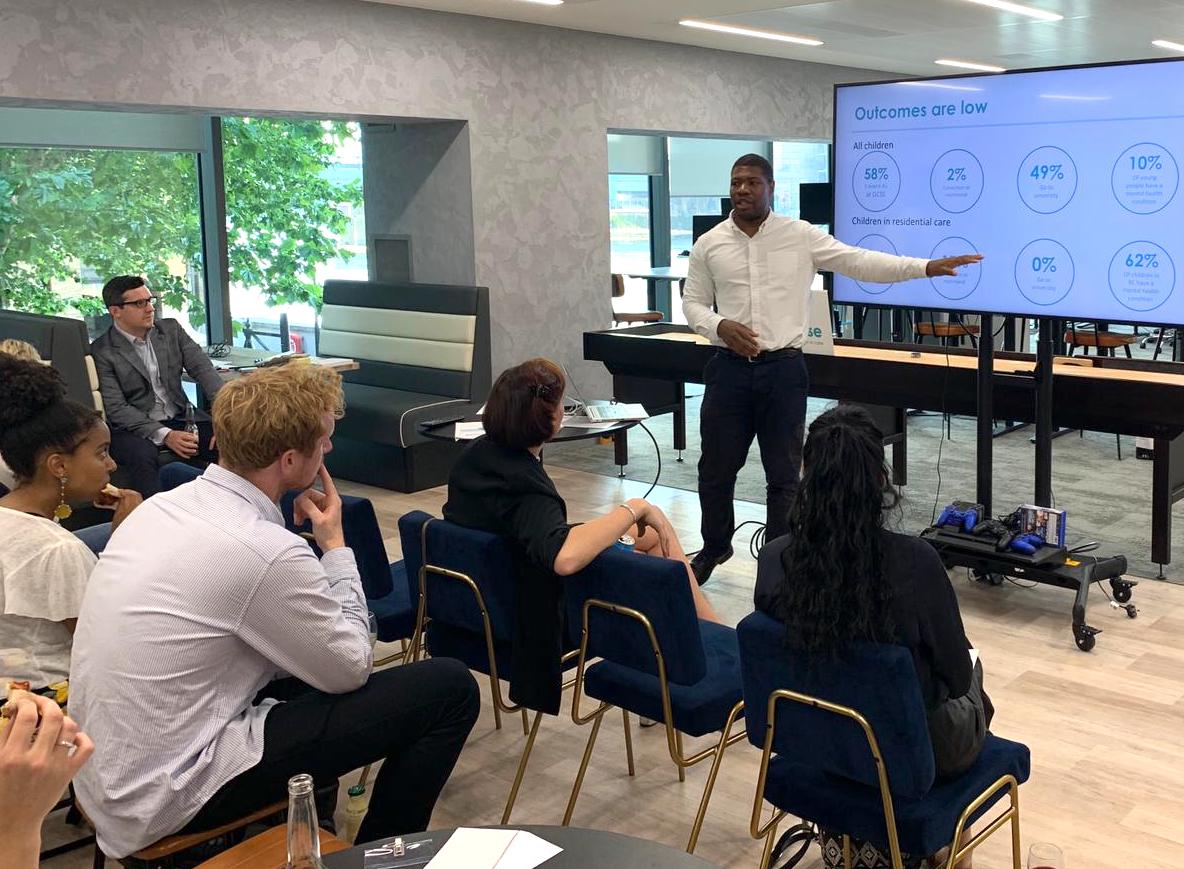 Emmanuel Akpan-Inwang, who has used his own experiences of foster care to inform the creation of Lighthouse, speaking to practitioners who work with children across the social care sector. (Credit: Sunil Suri)
Secondly, direct experience of the problems can also mean a better understanding of what is needed. Jacob Hill wrote the business plan for what would become Offploy, an employment agency for ex-offenders, while he was in prison. Talking to people with direct experience of the challenges of securing work on release informed the design of his nine-step candidate journey, which Offploy has now used to support over 140 ex-offenders into employment.
Third, supporting new voices with different life experiences to come to the fore can also help to mitigate against the risk of social enterprises and charities working within their own echo chambers – which can result in potentially transformative ideas left off the table (a theme which Anand Giridharas explored is his polemic Winners Take All).
Jacob Hill wrote the business plan for what would become Offploy, an employment agency for ex-offenders, while he was in prison
The numbers clearly show the need for greater diversity. White males, for example, comprise over 60% of charity board trustees, while research by the Diversity Forum reveals that almost one in five social investment board directors studied at either Oxford or Cambridge university. The same research draws attention to concerns about unconscious class bias in decisions to invest: investors are more likely to back organisations whose proposals have the hallmarks of a university education.
By giving more people the agency to solve their own problems and promoting their voices within the social enterprise sector, we can challenge these entrenched ways of thinking.
Supporting entrepreneurs with lived experience
But let's be clear: we don't think having lived or learnt experience necessarily leads to better social enterprises. Sometimes being especially close to a problem due to your life experiences can be problematic. You might be overly wedded to a particular solution, or too conditioned or defeated by the system to think of an innovative approach.
It clearly isn't zero sum. There is space for different motivations for – and approaches to – social entrepreneurship. But if we accept that there are benefits to encouraging people with lived and learnt experience to craft solutions to overcome problems that they've faced, how do we best support them?
At Catch22, our efforts are very much a work in progress. But from our work to date it's clear there needs to be greater discussion about the lack of diversity in the social enterprise sector at all levels and the impact this has. Amol Rajan's recent BBC documentary 'How to Break into the Elite' powerfully illustrates how conformity to unwritten social codes and behaviours can determine an applicant's success within an interview process. While he focuses on professional occupations like banking, we believe the social enterprise sector suffers from many of the same problems.
There needs to be more intensive support to help social entrepreneurs to do things like submit funding applications and pitch to a room full of people. At Catch22, we provide intensive, tailored support over a period of two years for this very reason, rather than the three to six-month period many incubator and accelerator programmes offer.
We need to ensure that a social entrepreneur is not defined by their life experiences alone
And we need to ensure that a social entrepreneur is not defined by their life experiences alone, remembering that this sits alongside all their other skills and expertise. Reflecting on an uncomfortable conversation where he was indelicately probed about his own experiences of care, Lighthouse founder Emmanuel warns against tokenism, where one's life experiences alone are "what qualifies you to sit at the table".
Lived and learnt experience may sound like the latest buzzword – and in some senses, it is. But at a moment when people don't feel represented by their institutions, the social enterprise sector is well-placed to offer a practical example of how to put power back in their hands – and at the same time, answer Paul Graham's call for new startup ideas.
Header photo: Staff of Offploy. Over half of the company's employees have convictions themselves, helping them to understand what support is most needed and to build trusting relationships. (Credit: Offploy)
Offploy was shortlisted for a NatWest SE100 Social Business Award in 2019, in the Trailblazing Newcomer category. Catch22 was listed among the SE100.
Thanks for reading our stories. As an entrepreneur yourself, you'll know that producing quality work doesn't come free. We rely on our subscribers to sustain our journalism – so if you think it's worth having an independent, specialist media platform that covers social enterprise stories, please consider subscribing. You'll also be buying social: Pioneers Post is a social enterprise itself, reinvesting all our profits into helping you do good business, better.